With the retiring of Tracy McGrady this week it made me think back to the time when he was a New York Knick. It was for just a brief time in 2010 from the middle of February to the middle of April. It was right before the highly anticipated free agent summer that highlighted Lebron James. At the time of McGrady's arrival the team had gone nine season's without finishing over the .500 mark and in their 6th season of not making the playoffs. Their had not been match to get excited about for year's at Madison Square Garden but the arrival of Tracy McGrady meant a star name was coming to the Garden to bring juice into the building. McGrady was acquired in a trade from Houston where a slew of injuries most notably to his knee had diminished is game tremendously and forced him to miss a lot of playing time in the preceding years.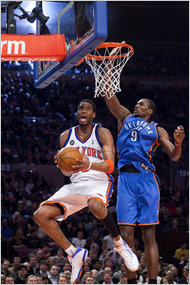 The trade that brought McGrady to Madison Square Garden was actually the side note to a trade deadline which saw the Knicks make multiple trades to dump salary so they could clear salary cap space to make a run at Lebron James, Dwayne Wade and the other slew of all-star free agents available in the summer of 2010.  In the string of deals one Knick who was sent out of town was Nate Robinson who had spent his first four and a half years with the Knicks and won three slam dunk contests.   There were some Knicks fans who were bothered by the Knicks trading Robinson as you will hear  in the report.  But for the most part the move brought much OPTIMISM for Knicks fans and the first time McGrady put on a Knicks uniform and hit the Garden floor he and a kid that looked up to him gave the crowd a treat.
The night was February 20th 2010 on a Saturday night.  The opponent was the Oklahoma City Thunder and superstar Tracy McGrady.  This was Kevin Durant's 3rd season in which he would finish it with his first scoring title.  Tracy McGrady is a two-time former scoring champion in his career and he also made first team all-NBA twice. 
As a follower of both Tracy McGrady and Kevin Durant throughout their careers Kevin Durant has always reminded me of a taller version of Tracy McGrady.  Before Tracy McGrady made his debut at Madison Square Garden for the New York Knicks I introduced myself to him and told him how Kevin Durant has always reminded me of himself.  McGrady agreed.  I then went over to the Okalahoma City locker room on the vistor's side and asked Durant who his favorite basketball player of all time was and he said Tracy McGrady.  I then told Durant about the conversation that I had just had with T-Mac in the Knicks locker room and I got it all on tape….  Take A listen.