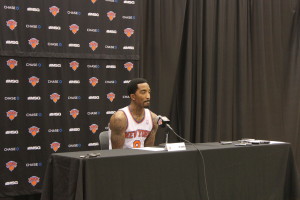 After winning the NBA 6th Man of the Year Award for the 2012-13 season, it appears J.R Smith has bigger goals in mind.  Speaking with Ian Bagley of ESPN New York Smith stated the following:
"I've always wanted to start. Everybody knows that," Smith said. "I won the Sixth Man [Award] last year, so I felt as though there's nothing left to prove at the sixth-man spot. But at the same time, if that's what my team needs me to do, that's what I'll do. If Coach wants me to be a sixth man, I'll be a sixth man. If he wants me to start, I'll start. That's up to him."
Knicks coach Mike Woodson has stated he intends to have a competition for the starting SG spot between Smith and Iman Shumpert.  It will be interesting to see if J.R. Smith will be able to impress Coach Woodson enough for him to take over the SG spot once he returns from his 5 game suspension.
-Jabari Bishop